Take part in the finals of EU Datathon 2022 
This year´s edition of the EU Datathon, the annual EU open data competition organised by the Publications Office of the European Union, promises to be particularly worthwhile. With 159 entries from 38 countries, the highest number so far in the EU Datathon's history, we can expect an exciting final competition.  
Join us for the finals! They will take place on 20 October 2022. Book your place to be there, join in the discussions, and help choose the winner of the Public Choice Award!
Meet our finalists
12 teams have been selected for the finals after two rounds of pre-selection, presided over by the jury of experts. The teams will compete for victory and the Public Choice Award on four challenges:  
Challenge 1: A European Green Deal;  

Challenge 2: Transparency in public procurement;  

Challenge 3: EU public procurement opportunities for young people;  

Challenge 4: A Europe fit for the digital age. 
The winning teams will take home prize money totalling EUR 200 000.
Image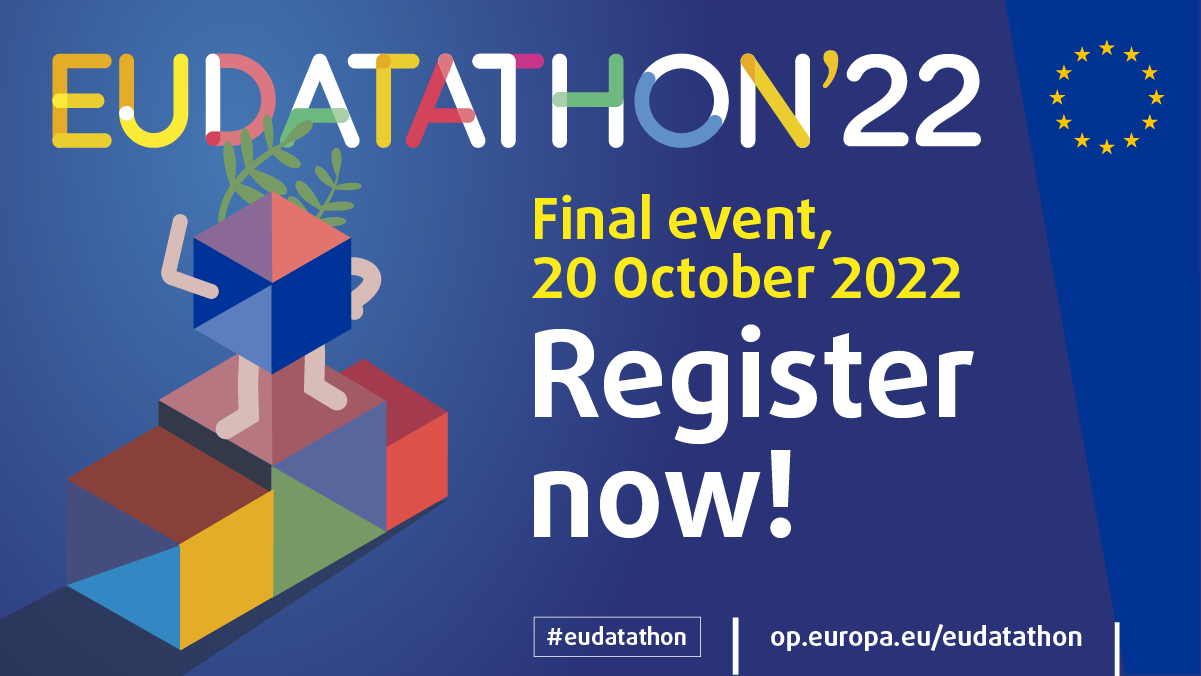 Meet our hosts, experts and guests
European Commissioner for budget and administration, Johannes Hahn, and Director-General of the EU Publications Office, Hilde Hardeman, will open the event. We are delighted to welcome expert speakers from across the globe--including Angela Morelli (InfoDesignLab), Stefaan Verhulst (The GovLab), and Renata Avila (Open Knowledge Foundation)—and from the EU institutions—Reet Sommer (European Parliament), Manuela Cruz (Publications Office of the EU), and Thomas Gottron (European Central Bank).  Here is the latest agenda. The event will be streamed online to allow our teams´ supporters and open data enthusiasts from around the world to participate. We hope very much to welcome you too!
Help choose the Public Choice Award winner 
Teams will demonstrate their apps live, and participants will choose the winner of the Public Choice Award. Visit the EU Datathon website to read more about our finalists´ apps, choose your favourite and vote for them on the day of the finals.
The final event of EU Datathon 2022 is open for registration. Book your place now!
To find out more, join or follow the event, visit the EU Datathon website or follow us on Twitter (@EU_opendata), with the hashtag #EUDatathon.