EU Datathon 2022: meet the 12 finalist teams!
Empowering young people on the job market, reducing greenhouse emissions, bringing European cultural heritage closer to citizens, these are some of the ambitions put forward by the teams selected to continue on to the finale of this year's EU Datathon, the EU's open data competition.
EU Datathon 2022 was launched in February, inviting all data enthusiasts worldwide to propose ideas for applications using open data from data.europa.eu. Those interested were invited to propose applications addressing one of four important societal challenges facing us today.
We were pleased to receive a record number 156 proposals, from 121 teams and 38 countries all over the world. The pre-selection jury shortlisted 24 teams who were invited to further elaborate on their original ideas. On that basis, the jury has now selected the 12 finalist teams. Congratulations to our finalists! Well done to all other teams who made it to this point!
Who are the 12 finalist teams?
Challenge 1: A European Green Deal
CROZ renEUwable team (Croatia)
Green Land Dashboard for Cities (Italy)
MyBioEUBuddy (Montenegro, France)
Challenge 2: Transparency in public procurement
EMMA (France)
Free Software Foundation Europe e.V. (Germany)
The AI-Team (Germany)
Challenge 3: EU public procurement opportunities for young people
HasPopEU (Romania)
Hermix (Belgium / Romania)
YouthPOP (Greece)
Challenge 4: A Europe fit for the digital age
100 Europeans (Greece)
Lobium/Gavagai (Netherlands, United Kingdom, Sweden)
UNIOR NLP (Italy)
Image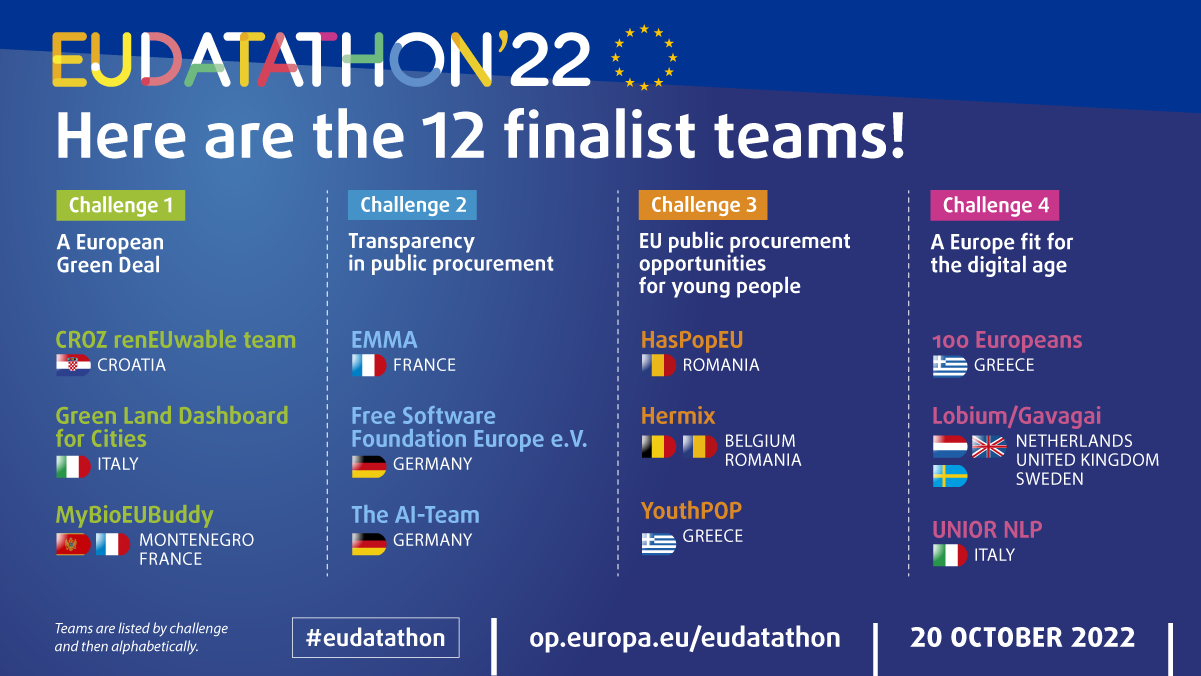 What's next?
Over the next 3 months, the finalist teams will develop their proposals into fully-functioning apps to be presented at the EU Datathon 2022 finale and award ceremony on 20 October 2022, an event that brings together the international open data community from across all sectors. Registrations for the audience will open in the second half of August.
The resulting apps, developed with the support of EU Datathon, are expected to be marketable and offer great value to multiple segments of users. EU Datathon, overall, aims to  help shape our digital future and bring the value of open data to everyone: from SMEs, researchers, policy makers, governments and NGOs to all citizens in the EU and beyond.  
To find out more, join or follow, visit the EU Datathon website. For the latest updates, follow us on Twitter (@EU_opendata) with the hashtag #EUDatathon.
Questions? Comments? Contact us at OP-DATATHON@publications.europa.eu.