Green revolution in economy is possible thanks to data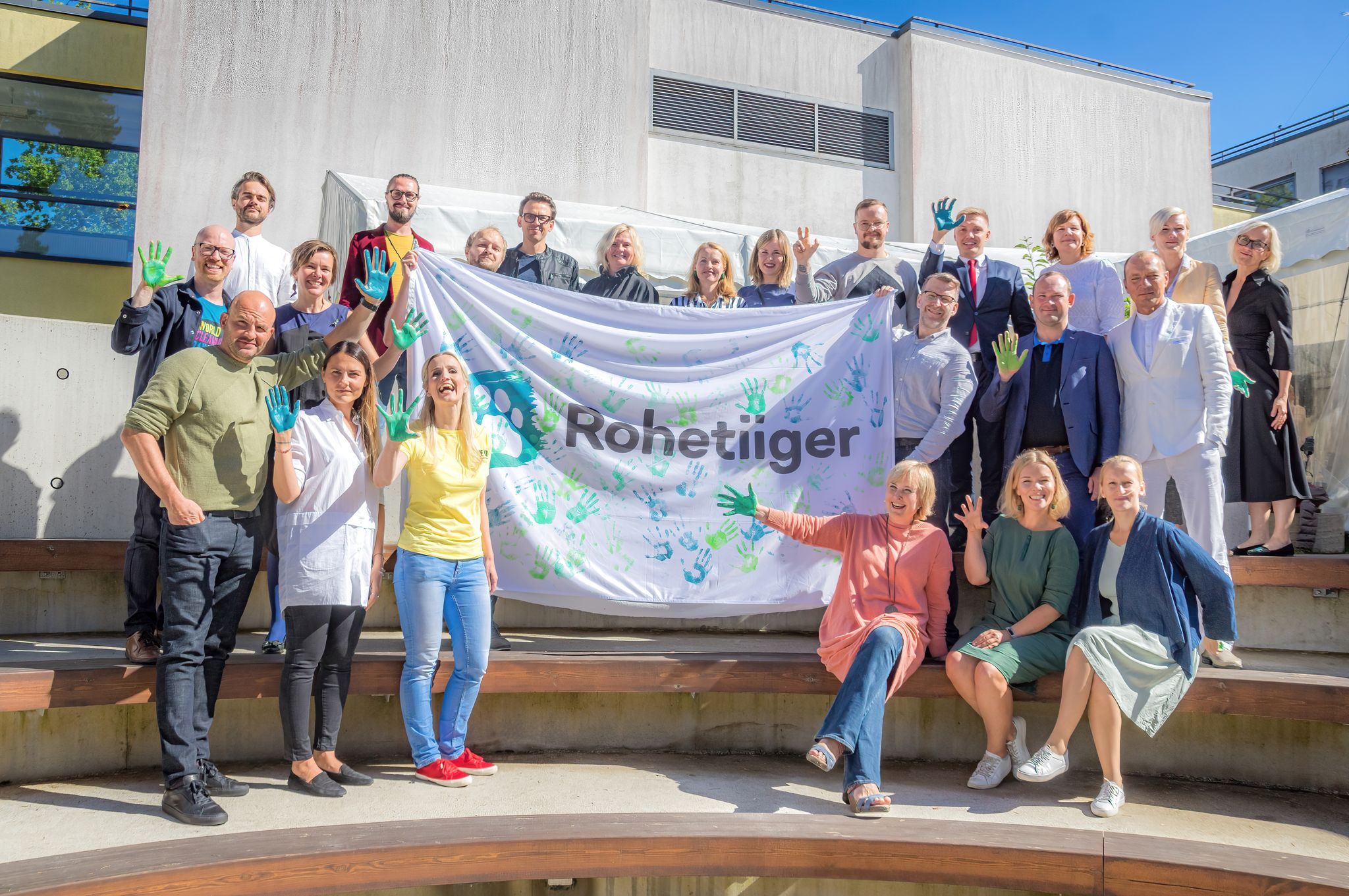 Transition to a green economy not only requires idealism and initiative but also data, data and more data.
It was in the fall of 2019, around the same time the Swedish climate activist Greta Thunberg sailed around the world scorning world leaders for ignoring environmental problems, that the environmental initiative called Rohetiiger. took its first breaths in Estonia. Rohetiiger (Estonian for Green Tiger) is a broad-based collaboration platform seeking to boost the development of green economy. Among other plans, the platform wants to develop a system for data-driven assessment of products' environmental footprint. However, many may not know that last year Estonia also took a step to foster the green transition at the global scale by encouraging the UN Environmental Program (UNEP) to develop a global environmental data strategy. Kristiina Kerge, leader of Rohetiiger's environmental footprint initiative, and Kätlin Mandel, advisor of the Estonian Ministry of Environment, explained to the open data portal how the two initiatives help start a green revolution in economy and why we need data for that.
What's the real price of a pizza?
According to Kristiina Kerge, it all started from the wish to inform people of the carbon footprint of a product the very moment they drop it in their shopping cart. This information could be given, for example, by placing a label showing the environmental footprint right next to the price tag. "We started from two sample cases: potatoes and pizza with ham. A potato only has one component, while a pizza consists of many different ones," Kerge describes the start of the team's work. It is relatively easy to calculate the carbon footprint of a potato, but doing the same for pizza requires analyzing the production chains of tens of different components, several of them imported.
The project team participated in the Accelerate Estonia Innovation program to test the calculation methodology for both products and concluded that just measuring CO2 emissions is not enough – one needs to dig deeper to grasp a product's full environmental impact. As a result, the team developed a five-part assessment framework. In addition to CO2 emissions, the framework also accounts for a product's impact on water use, biodiversity, circular economy potential, i.e. sustainable use of material and reuse of waste, and, lastly, impact on human wellbeing and quality of life.
As the next step, the team mapped what data for the impact assessment is available from public databases. "We found that a large part of the data is held privately by companies," says Kerge. This triggered a turn in the initiative's objective – instead of consumers, it should be companies taking the responsibility for steering the economy towards environmentally friendly choices. Hence, what should be assessed is the environmental footprint of companies' activities as a whole. According to Kerge, many large enterprises have already started assessing their environmental impact due to pressure from their sustainability-oriented business partners in Europe. However, smaller companies rarely do that due to lack of resources. "This prompted us to ask what the government could do to make environmental impact assessment accessible to small enterprises." An even more pressing problem is the current diversity of assessment methodologies. "There are lots of service providers around who conduct environmental impact assessment but there is no clarity on how it should be done since it is not required by law," says Kerge. In cooperation with partners, the project team now plans to explore the possibilities for developing a common methodology and data sharing system at the national level, so that all companies could be held to similar standards.
Solution – climate register?
As one possible solution, some have proposed to create a national climate register – a common database where companies would need to submit data or enable data requests following a certain methodology. Kerge highlights the government's role in creating such a database or data exchange layer. "This requires a decision at the national level, so that all stakeholders would have a shared understanding why the data needs to be collected and shared, how calculations are made and how the data is used." Possibilities for that were already discussed with ministries and agencies during the Accelerate Estonia program. Data availability will likely also be improved by the ongoing Internet of Business project, which is part of the national real-time economy program and works to facilitate an automated real-time exchange of standardized data between businesses and state agencies. Therefore, ideally, anyone who needs to assess the environmental impact of a company should be able access the relevant data in a standard format through the national data exchange layer. Furthermore, if made open, the data could inform a comprehensive understanding of how the activities of Estonian businesses affect the natural environment.
In addition to data collection, the government has another role in the green transition – that of a consumer. "The public sector is a major consumer of products and services and if we ask whether it is more important to have an environmental footprint label on a milk carton or consider environmental impact in public procurement, the latter is clearly more important," Kerge claims. One of the ideas is to add a module to the online public procurement platform that would facilitate calculating the environmental impact of the items to be procured. Similarly, environmental impact could be considered when disbursing state-funded grants and loans. All of that requires high-quality, up-to-date data.
Data sharing against greenwashing
Assessing the environmental impact of investments is not only a nice idea but already a real need for the financial sector. The LHV Bank, who recently joined the UNEP's sustainable finance initiative, shared their concern at the Open Data Forum this October: the bank would like to direct their investments to environmentally sustainable projects but there is no data nor a clear methodology for evaluating the sustainability of companies' activities. Relying simply on companies' claims would not work due to risks of greenwashing. Such risks could be reduced by using verified and comparable data following a harmonized methodology. The bank thus sees a clear need for cross-sectoral collaboration in adopting common sustainability indicators and sharing relevant data.
All parties agree that it is essential to start from building an overview of what data already exists and where and what data still needs to be collected. According to Kätlin Mandel, advisor of the Ministry of Environment, the environmental domain already produces vast amounts of data on a daily basis. She lists four core categories of data curated at the national level: spatial data, satellite data, weather data and environmental monitoring data. Data about the state of the environment is mainly collected through the national environmental monitoring program, but also using drones, live webcams, Earth observation data from European satellite programs and businesses' own monitoring data. A lot of data on nature observations is contributed by voluntary citizens.
It is worth noting that a large part of environmental data is already available as open data – this includes most of meteorological data, data on air quality, data from the forest register and large volumes of the spatial data held by the Land Board. More open data will be released in the coming years as key information systems are gradually upgraded and replaced – the Ministry of Environment currently has several new developments ongoing. Companies interested in environmental data can also use the services of the ESTHub center, which provides functionalities for searching, downloading and processing the satellite data from the EU's Copernicus program. According to Mandel, companies have by far not yet exhausted the potential of ESTHub for creating new data-driven services.
Estonia's global ambition
For over a year now, Estonia has been working on fostering the exchange of environmental data at the global level. As the president of the fourth session of the UN Environment Assembly in March 2019, Estonia led the adoption of a ministerial declaration whereby countries all over the world agreed to create a global environmental data strategy for 2025. The strategy foresees the development of common data standards and increasing the quality of environmental data. It also aims to foster cross-border data sharing and interoperability, improve countries' environmental monitoring capacities, develop a global data infrastructure and improve data analysis methods. In order to support this process, Estonia plans to launch a global alliance, Data for the Environment Alliance (DEAL), which would bring together countries interested in improving the quality and accessibility of environmental data and developing digital solutions.
"Since environmental problems cross national borders, we should do away with all borders when using environmental data," declares Kätlin Mandel, initiator of the alliance. She stresses that solutions to global environmental problems start from accessible, high-quality and interoperable data. Here, too, the key challenge is overcoming the current lack of information on what data and with what quality is available in different countries.
Due to this, the alliance's first steps involve conducting a global mapping of data and creating a collaboration platform where countries could share their best digital and data-driven practices as well as initiate new collaborations with other countries and private companies. No such platforms exist in the world yet.
Green dreams
Kätlin Mandel hopes that these global efforts would help create a future where environmental policy would become more evidence-based and data about the state of the environment would be promptly available at any given moment. "Data should not sit in information systems, we need to get the data out of there to better analyze and combine them – the coronavirus pandemic made this need very clear," Mandel says. She believes that much more data sharing should also occur across different domains so that the social, economic and environmental impacts of policies could be analyzed in a holistic manner. Aiming to foster data interoperability at the national level, the Ministry of Environment is currently developing a new Estonian Nature Information System (EELIS), which will improve the accessibility and reusability of a number of datasets about the Estonian nature and environment. The ministry is also working on building a new public portal to provide access to the data through a single window. The portal will be interconnected to all major information systems in the domain in a few years.
Rohetiiger's environmental footprint team has even more daring dreams. Kristiina Kerge believes that in a true green economy, it should be environmental impact that determines the market value of any product or service. "In the future, an environmental impact unit could be assigned monetary value, so that a service with a smaller environmental footprint would automatically be cheaper for the consumer," she dreams. According to this vision, consumers would continue making their choices based on price, but the price would be formed based on an entirely different set of factors. All of this, however, starts from the availability of accurate, high-quality data.