Check out the source code of the Portal
The long awaited open source code of the European Data Portal version 1 is now available on GitLab. The accompanying documentation provides a comprehensive overview of all the different components of the portal, guidelines and installation manuals.
Image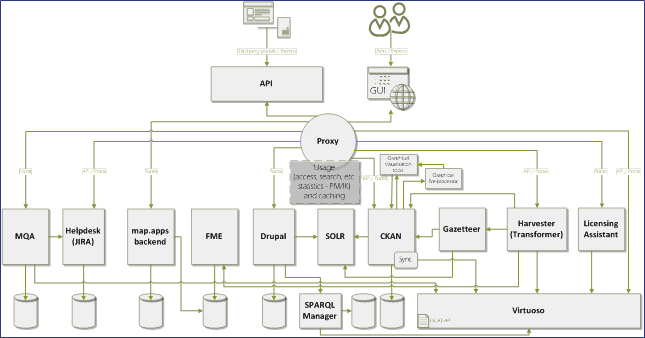 Important note:
Only the source code for the updated or modified open source components is provided. There are no installers / installation programmes included here. The reader should refer to the standard installation process for each open source component, as published on GitLab.
Here is a short overview of the components that are available.
CKAN extensions
Portal's central metadata (dataset) repository
Licensing Assistant
Component to provide legal information on (re-)usage of specific datasets
SPARQL Manager
SPARQL query editor allowing to run SPARQL queries on linked data in the Virtuoso repository
map.apps European Data Portal Bundles
This component provides geospatial visualisations of data that is made available through the portal. I t contains a set of extensions for map.apps. Those extensions and a fully functional app are available that can be used out-of-the-box, specifically developed to meet the setup of the EDP.
NOTE: This component is based on con terra map.apps (proprietary) that enables visualisation of geospatial data and information. It comes with a variety of map tools and provides thematic focus, a graphical configuration interface, supports responsive web-design, i18n internationalization files and client side implementation of the OSGI specification (JavaScript). A map.apps evaluation licence can be requested on demand (check details at the GitLab repository).
map.apps - CKAN proxy
In order to have access to external services that do not support CORS, a proxy is required for map.apps. This proxy harvests the CKAN API and stores the domains in a whitelist, thus allowing all registered datasets to be proxied.
Harvester (Metadata Transformer Service)
Single entry point component for harvesting data from multiple data sources in different formats and from different APIs
Geo-Harvester
Single entry point component for harvesting geospatial data from multiple Geoportals in different formats and from different APIs
Gazetteer
This is a component providing a geographical dictionary and spatial information.
NOTE: This component uses FME and smart.finder. FME and smart.finder are used by the Gazetteer as a search tool and a universal spatial ETL provider (Extract-Transform-Load) that supports accessing, processing and outputting of all spatial file / database formats and that is used for harvesting the sources for geographical names. A smart.finder evaluation licence or FME evaluation licence can be requested on demand (check details at the GitLab repository).
MQA
Metadata Quality Assistant: Component to report on the quality of the harvested metadata and to alert helpdesk in case of issues
Service to connect to MT @ EC Translation Service
MT @ EC is the Machine Translation Services of the European Commission used for translation of the metadata into all of the supported languages by the portal. The service that connects to MT @ EC is published as open source.
Image

Do you have any questions? Feel free to contact the European Data Portal team using the helpdesk