Did you know this is Open Data?
Open Data can be found in many fields, areas and colours
Open Data can be found in various fields or be illustrated in numerous ways. This allows people to get acquainted with sets which have never been explored or for people already familiar with a certain topic, to see if the set fits their needs. An example of "did-you-know-this-is-open-data", are the naval (or maritime) facilities at the coast of Ireland which is visualised in the figure below. The yellow dots are lighthouses, the purple ones are fishing ports and the little yellow encircled boats are the ferry ports. The data of this map can be found here.
Image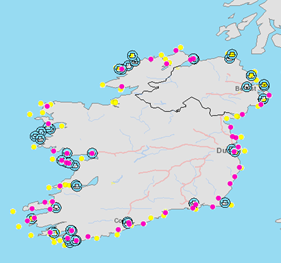 The colour palette below is the city Valencia in Spain. Valencia has a lot of Open Data available on a local level. The purple and yellow colour indicate the amount of noise recorded in the city. Other examples of Open Data the city collects, are the location of parking spots to charge your electric car and where to find wooded areas. This colourful map of Valencia can be found here.
Image