Ever wondered which country is contributing the most data to the Portal?
The European Data Portal harvests data portals from 32 European countries. This leads to a total of over 400,000 datasets spread over a number of catalogues. Examples of portals that are harvested are: national data portals, national geo data portals, regional portals and local portals. Have you ever wondered which country actually had the most Open Data made available on the European Data Portal?
Our winner is Czech Republic. Indeed, Czech Republic contributes the most data sets to the portal. They contribute to over one third of the data sets. This is mainly due to the very detailed level of data made available on their geospatial portal.
Take a look at the data of Czech Republic!
Who is the second biggest contributor? The second and third largest contributor to the number of data sets are Germany with 22% followed by France with 12%.
Are you wondering how much Open Data sets from your country can be found on the European Data Portal? The complete list of all 32 countries can be found below.
Image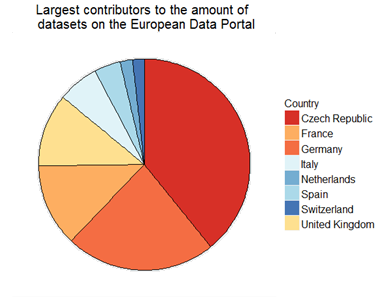 Image