How open data supports water management
Showcasing European water info applications
This summer, severe floods have affected several European countries
In early July, several countries in Europe have witnessed severe floods, causing serious damage. Multiple river basins in Austria, Belgium, Croatia, Germany, Italy, Luxembourg, the Netherlands, and Switzerland, for which is common practice to store water and control the risk of floods, overflowed.  Water poured out onto roads, villages, and cities. Germany and Belgium were hit particularly hard, with power outages, evacuations, and damage to infrastructure and agriculture. The Belgian Minister of Home Affairs, Annelies Verlinden, defined the events as "one of the greatest natural disasters our country has ever known" in a recent Brussels Times article.   
Open data can support water management and response efforts
As the affected countries regroup and examine the reasons of what happened, the opportunities for a better use of data in managing water are being considered.  This resource can provide evidence to decision-makers when a flood is imminent, providing tactical information to implement preventative measures or decide whether evacuations are necessary. Data is also instrumental to more strategic water management planning, as weather and water historical data drive decisions of urban and landscape planning, such as choosing to change the route of a river, the height of its margins, the depth of its bed. Furthermore, data can be used to support response operations during the incident, and to inform rebuilding in the aftermath.
According to Monique Kuglitsch, Innovation Manager at Fraunhofer Heinrich-Hertz-Institut, "high-quality data are the foundation for understanding natural hazards and their underlying mechanisms" and help build models that monitor and predict these types of events.
Below, you can find a few examples of applications of data that support strategic water management as well as response efforts.
The Dutch application Waterinfo provides water, air, and wind data on a map interface
With a large part of the country and most big cities at or below sea level, the Dutch government needed to learn how to manage water effectively and have become internationally recognised experts at it. The Dutch Ministry of Infrastructure and Water Management (RWS) is the government body that deals with water and infrastructure management and provides timely and accurate water, wind, and air data. The water data website, developed by RWS, offers information on water levels, drainage, temperatures, flow rates, wave heights, tides, salinity, and water quality.  These data are used to inform other government bodies, local administrations, but also the general public.
To make all of this information accessible and easy-to-understand in a single overview, the RWS has also created Waterinfo. With this web-application, you can find current, expected, and historical data on national bodies of water, including rivers, seas, and lakes. Aside from consulting the data on a map, you can also get an overview of all data organised in a table or visualised in a graph, which can be exported to machine-readable formats.
Waterinfo provides information for citizens but also for water management professionals and experts. For a first intuitive understanding, the map offers color-coded indicators that show if the values are safe or alarming. On the expert maps, these color-codes are absent, and more technical indicators are visible, including the presence of chemicals and water quantity measures.
 
Image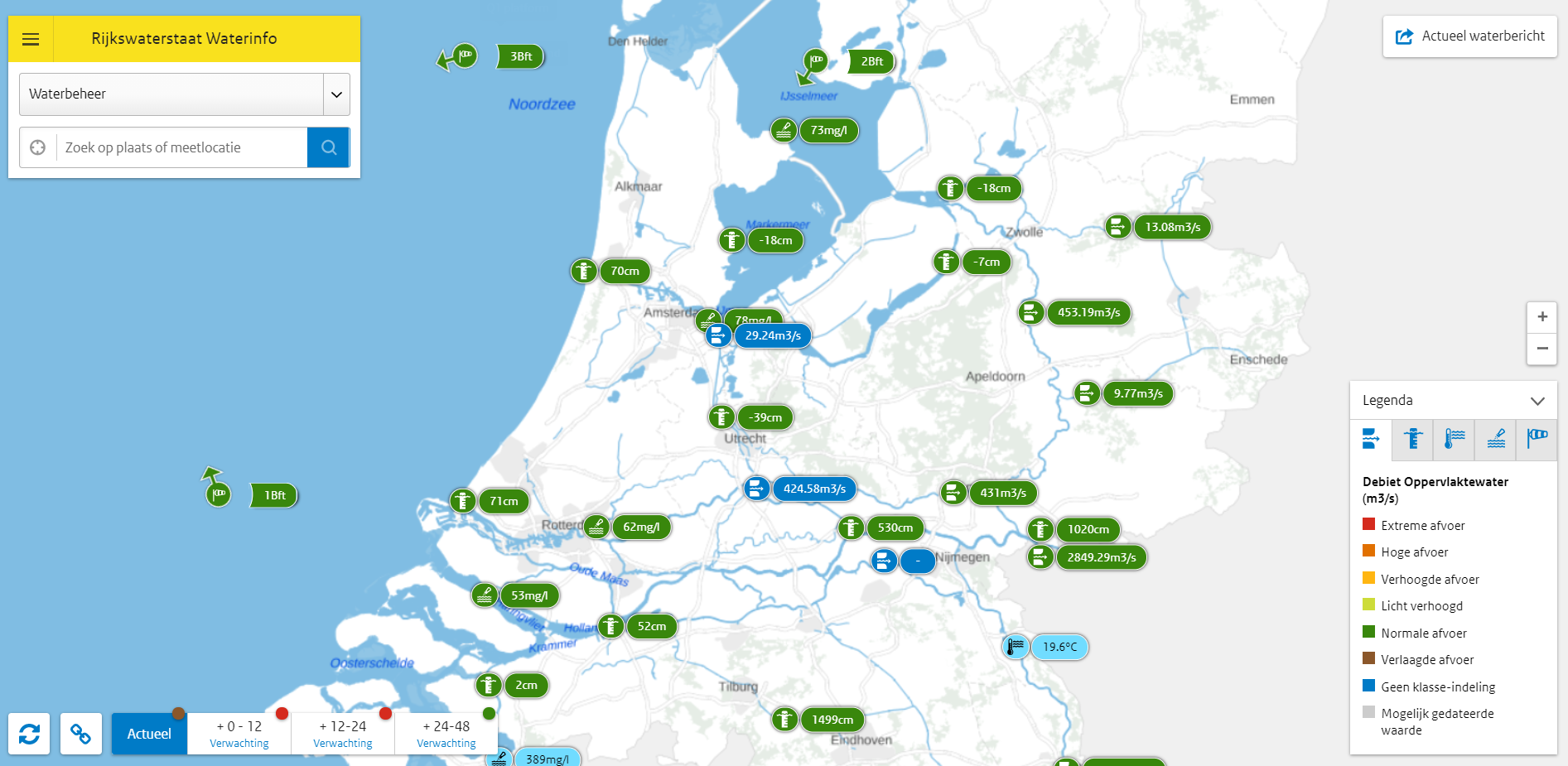 In Germany, a similar water management tool exists: Hochwasser-portal
In Germany, a similar application for managing water levels exists, the Hochwasser-portal. Hochwasser-portal is operated jointly by the country's federal states. The Federal Waterways and Shipping Administration (WSV) and each participating state supply current water levels and flood warning levels. You can monitor the levels of all main waterways in the country and monitor weather warnings and precipitation. Clicking on the individual states takes you to the respective state's portal, however it is not always intuitive to obtain the underlying datasets, and to verify that they were issued under an open licence. Navigate through the portal to check the current water situation across Germany.
 
Image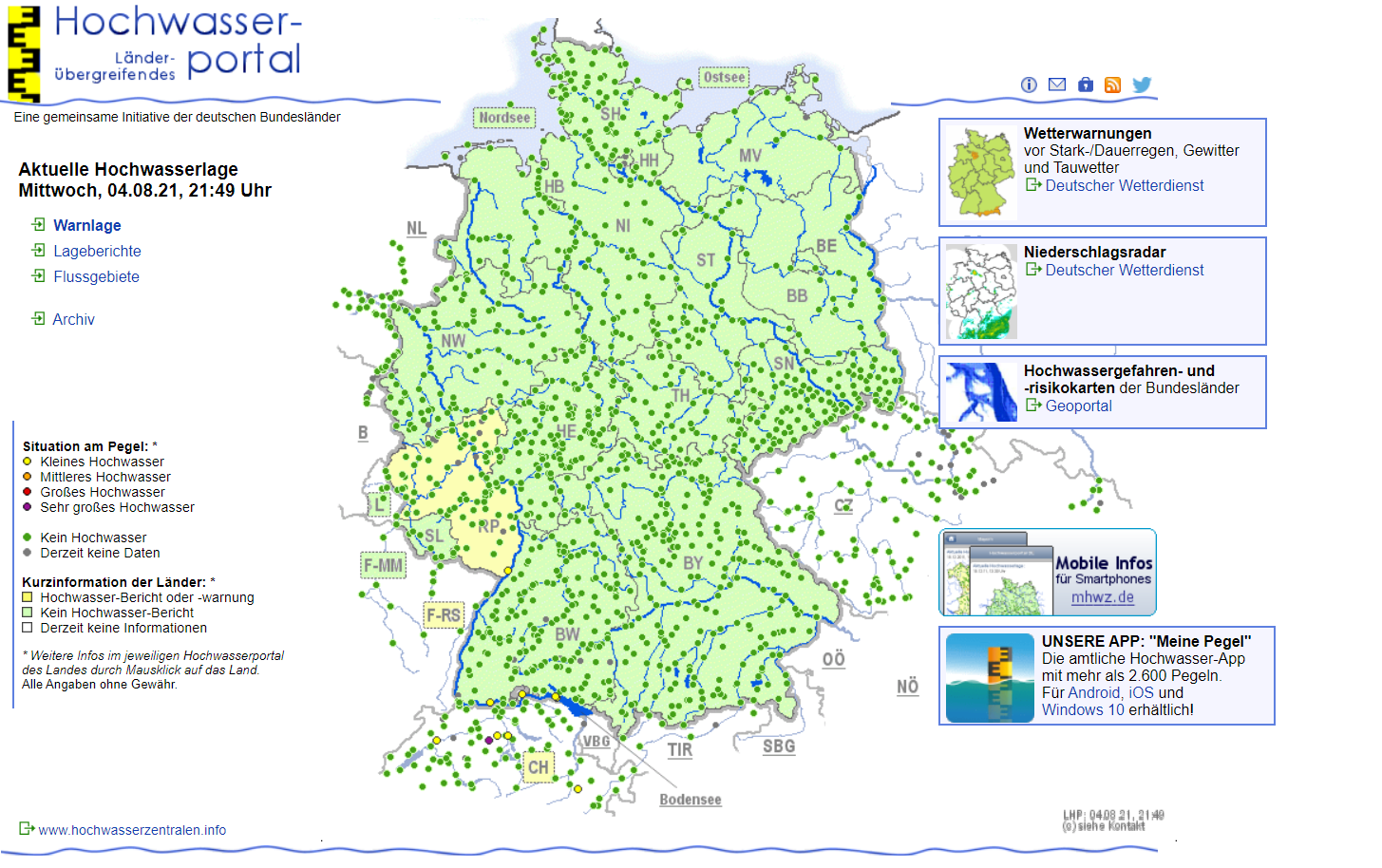 Open data informs response efforts across countries with the UN's Humanitarian Data Exchange
Data can also inform the time-critical actions required by the response forces. The United Nations Office for the Coordination of Humanitarian Affairs (OCHA) for instance, operates a data portal specific to this purpose, the Humanitarian Data Exchange (HDX). The UN's ambition is to offer the response forces data that they can use in real-time to manage operation, prioritise intervention, and provide support to the most individuals, and the ones in most pressing needs.
For example, users can find on HDX the data that the UN Operational Satellite Applications Programme (UNOSAT) produced from satellite analysis on occasion of the Somali region flooding in May 2018. The data describes the 9,200 ha of land that were inundated and enabled to estimate that 12,000 people were affected.
 
Image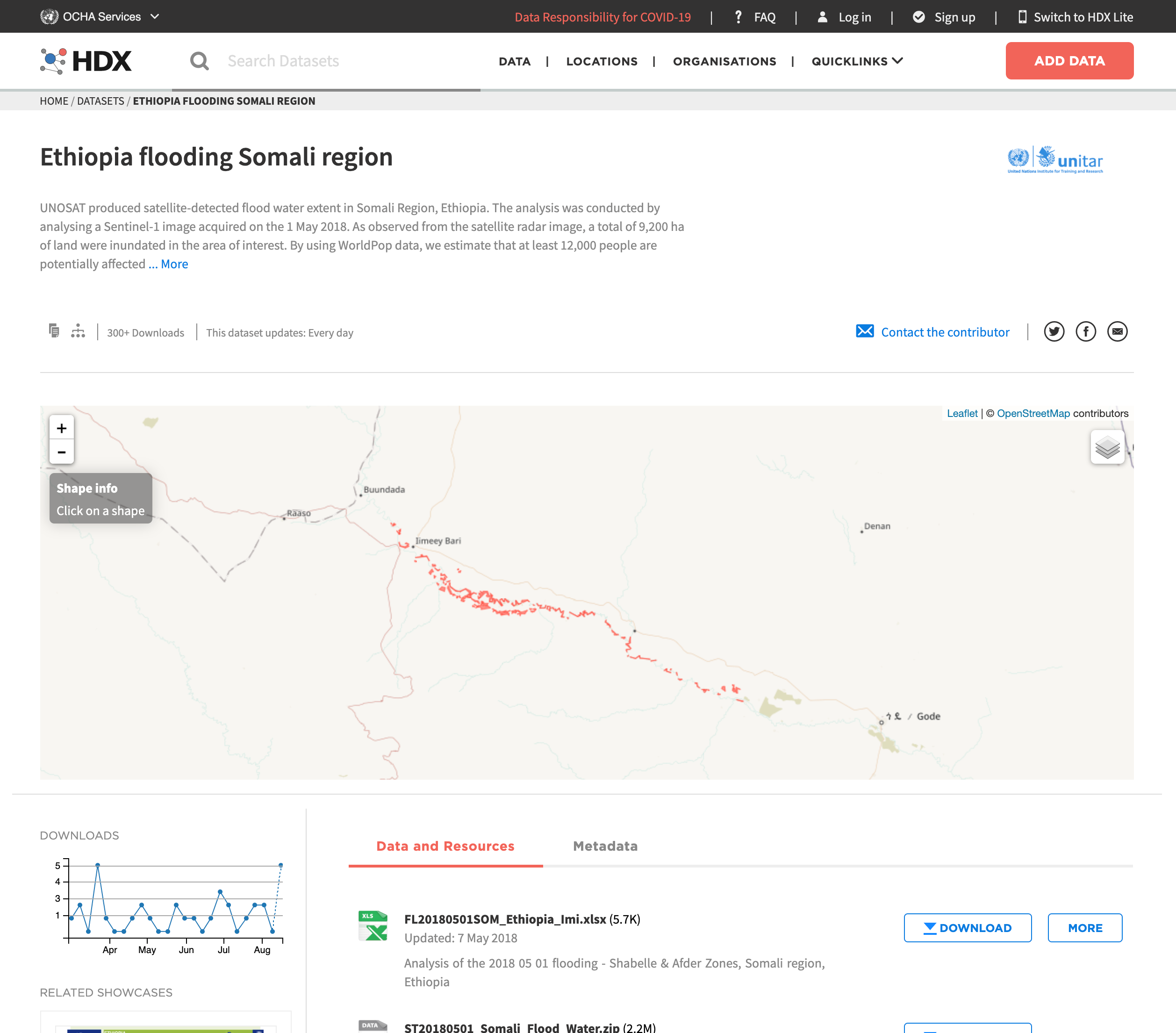 The re-use of open data helps manage water and supports response efforts
These three initiatives are prime examples of open data applications that truly show the potential of open data. Waterinfo and Hochwasser-portal help water management professionals monitor water levels with just a glance. This type of information is usually fragmented and getting an overview of the current situation nationwide takes time. Having direct access to accurate and up-to-date information makes it possible to respond much quicker and more effectively. When a situation unfortunately does escalate, initiatives like the Humanitarian Data Exchange (HDX) help to coordinate intervention and support for those in need
Looking to stay tuned for more news and events? Follow us on Twitter, LinkedIn, and Facebook or subscribe to our newsletter.