Looking back at the European Big Data Value Forum 2019
European Big Data Value Forum
The European Big Data Value Forum (EBDVF) 2019 was held on 14 to 16 October in Helsinki, Finland and was organised by Big Data Value Association (BDVA) in collaboration with the European Commission and VTT Technical Research Centre of Finland Ltd. The EBDVF is an annual European event that gathers industry professionals, business developers, researchers and policy makers from across Europe to discuss the different challenges and opportunities the European data economy is facing. This year, the theme was "Artificial Intelligence and Big Data Transforming Business and Society".
Over 90 speakers and panellists in 23 sessions shared and discussed insights from leading companies, research bodies and start-ups. There were several sessions throughout the three days, such as:
The European Data Portal at the Forum
This year, the European Data Portal (EDP) was again present at the EBDVF to highlight the value of open data. The team shared the EDP's aim to promote the use and re-use of open data across Europe by supporting data providers in publishing their data as open and users in (re-)using open data for their research, products and services. In addition, we discussed how to share data that cannot be made open.
Data sharing beyond open data
Yvo Vollman, head of DG connect stated in his speech that we should think about data in a more holistic way when looking at its value for Europe. He announced two main strategies for the future. One focus will be to bring open data to the next level by identifying high-value datasets. The other focus will be to provide guidance on sharing data that cannot be made open. The latter is realised by another EU initiative - the Support Centre for Data Sharing (SCDS).
SCDS aims to further support the development of the Digital Single Market and to enable data sharing in the private and public sector. The project focuses on researching, documenting and reporting about data-sharing practices to link researchers and practitioners and establish a common terminology and knowledge base. The initiative provides legal advice, for example by collecting applicable EU law and legal contract terms to support the creation of EU data sharing model contract terms, that can be re-used by legal practitioners. Further guidance is provided on technical aspects of data sharing like APIs, traceability and identification of data sources and safety of data sharing. The SCDS website launched 14 October 2019 and also offers additional features, like the forum where users are encouraged to provide feedback and to exchange knowledge and experiences around data sharing.
Image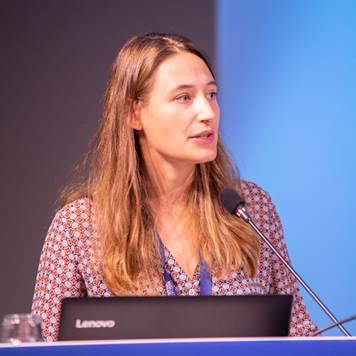 Figure 1: Esther Huyer presenting the Support Centre for Data Sharing
For more open data related events explore the European Data Portal's calendar. If you know of any upcoming open data events, share them with us via mail and follow us on Twitter, Facebook or LinkedIn to stay up to date!