Read the report on Open Data & Digital Transformation
Digital Transformation is the increasing adoption of digital tools and technologies by any organisation to fundamentally enhance both its internal and external processes and functions. It consists of three key areas every organisation needs to focus on: customer experience, operational process and business model. In order to study the relation between Open Data and Digital Transformation, more than 600 use cases from the private sector were gathered, from all over the world.
Image

Why is it important for companies to digitally transform their business? Research has shown that companies that have both a digital capability and digital leadership are 26% more profitable than their competitors. Multiple examples exist of the use of Open Data to transform business. A French example is Infoterra that uses satellite images to monitor growing crops allowing the production of digital maps that serve as a pattern for the appropriate fertilizer rate to be applied as required to a section of a field. More examples are described in the report.
Image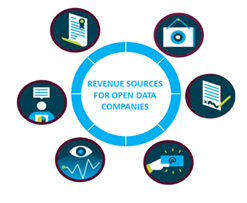 Find out more about
How Open Data is used for organisational purposes
Most frequently used data
Which industry sectors use Open Data
What type of companies use Open Data
Revenue sources for Open Data companies
To learn more about the results, barriers and recommendations, you can read the full report here:
Image