Some insights in the most popular Open Data categories
The European Data Portal harvests the metadata of Public Sector Information available on portals, both national, regional and local, throughout Europe. Currently there are 71 catalogues which are harvested, with a total amount of over 616k datasets available on the European Data Portal. These datasets are divided over 13 data categories. Data categories are categorisations of datasets linked to a common theme. The 13 data categories available on the European Data Portal match with the categories identified by the European Commission in the context of the revision of the European DCAT Application Profile.
But what are the most popular data categories? When looking at the availability of datasets on the European Data Portal per category, it can be noticed that the category Environment (>117k datasets) and Justice, legal system & safety (>112k) have the most available datasets. They are followed by the category Regions & Cities, offering over 81k datasets. On the contrary, categories such as Energy, International Issues and Health include less than 10k datasets. This shows that substantial differences exist in the data available per catalogue. This might be clarified by countries prioritising the release of certain data categories above others, for example those with a high potential for re-use by organisations. Another explanation would be that there is just more data available in certain categories, for example because of a strong organisational push in those fields.
Image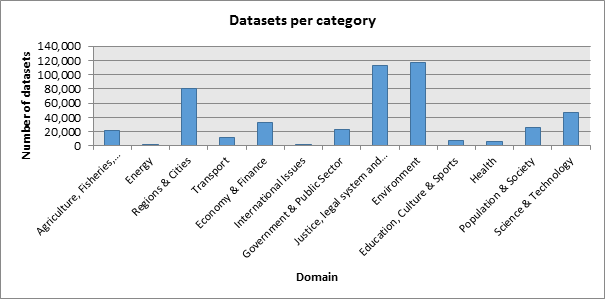 When we look at the most popular categories in terms of page views on the European Data portal, Regions & Cities and Transport are the most popular data category with the highest number of page views. The data categories, Regions & Cities, Transport and Agriculture, Fisheries, Forestry and Food together represent 39% of the page views on the European Data Portal. But what kind of data can typically be found in these domains?
Examples of datasets in the Transport domain include public transport schedules, information on disruption of public transport and planned road works. An example of a dataset in the Regions & Cities category is a dataset on land use plans in the Italian Province of Südtirol. The map below shows the borders of zoning plans in the area of Bolzano.
Image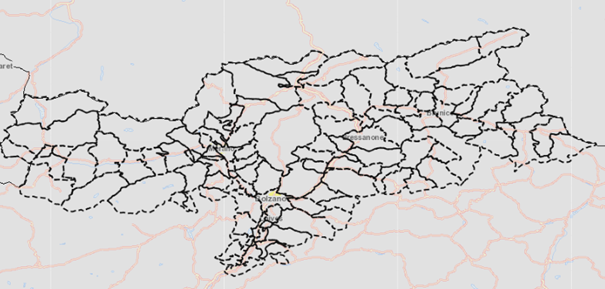 Do you want to explore what more Open Data can be found in each of the 13 categories? Discover all available sets on our portal.