Supporting women's mobility and sustainable cultural tourism with data
Interview with EU Datathon 2021 finalist ITER IDEA
At the EU Datathon 2021, ITER IDEA presented their project Wonder Wanderlust Women, a portal facilitating women's mobility in Europe. Targeting young women, the platform helps users to search for education and work opportunities across countries. They can indicate their preferences (such as field of study, languages or budget), which are then matched with specific areas and regions in Europe. Wonder Wanderlust Women won first prize in the EU Datathon 2021 challenge 'An economy that works for people', along with the Public Choice Award.
We recently talked with the ITER IDEA team about the life of Wonder Wanderlust Women after the competition and about their new project supported by REACH (the EU-funded European incubator for trusted and secure data value chains).
Your EU Datathon project was a huge success. What happened after the competition?
Since the finale of the EU Datathon, our project has evolved by forging essential synergies with international organisations. One of our team members, Sara Baroni, became a brand ambassador for WomenX Impact, one of the most renowned international organisations working on female empowerment issues. The EU Datathon 2021 also had a significant impact on our organisation. The team expanded, acquired new data analysis skills and had the chance to improve services, making them available for other great initiatives. Finally, the contest helped us sharpen our vision and transform ourselves into the company we would like to become.
Image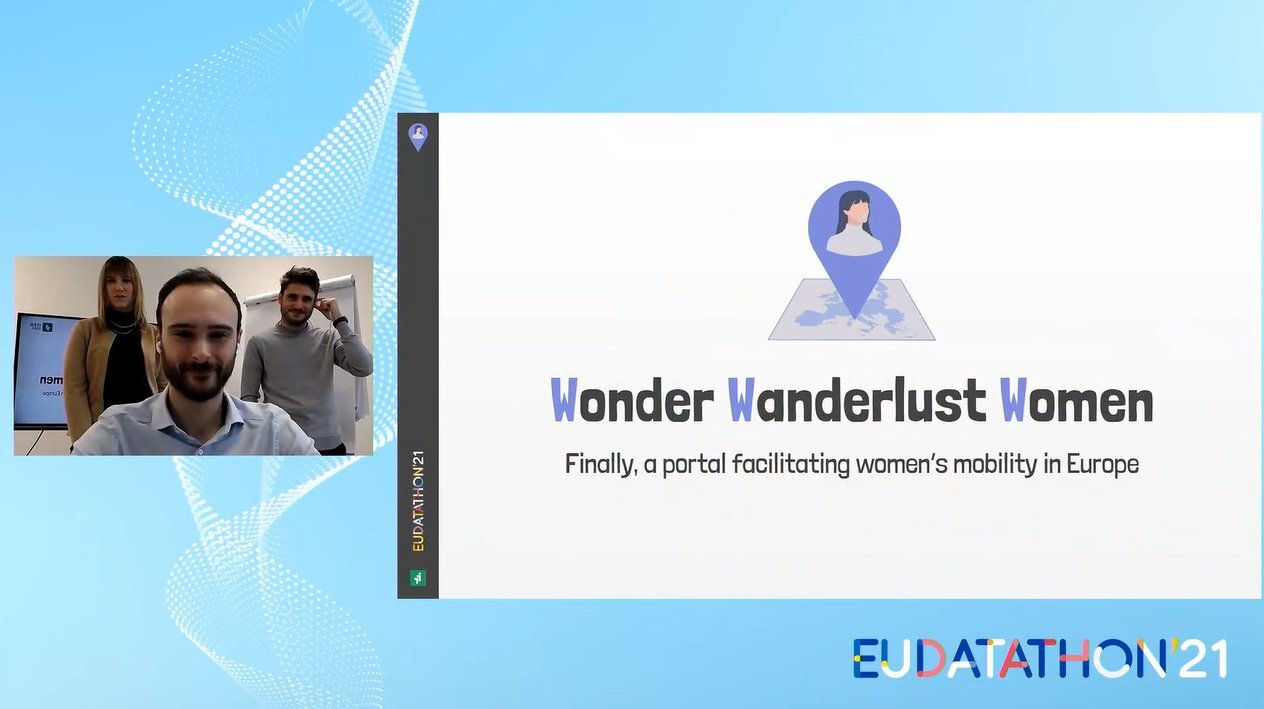 Team ITER IDEA (from left to right: Sara Baroni, Matteo Carbone and Guido Mazza) at the EU Datathon 2021.
What are you planning next with Wonder Wanderlust Women?
Currently, the platform is going through a deep rebranding process. Also, together with Sara and WomenX Impact, we are working to showcase our cloud solution during the upcoming events planned by this organisation. Our goal is also to embrace new opportunities to raise funds and social awareness. Furthermore, to fit the scope to promote the solution, we have established new collaborations with European universities, companies and certification centres. Alongside Wonder Wanderlust Women, we are also developing a new project addressing topics of cities' mobility, sustainability and cultural destinations. It was selected to participate in the REACH incubator programme.
Image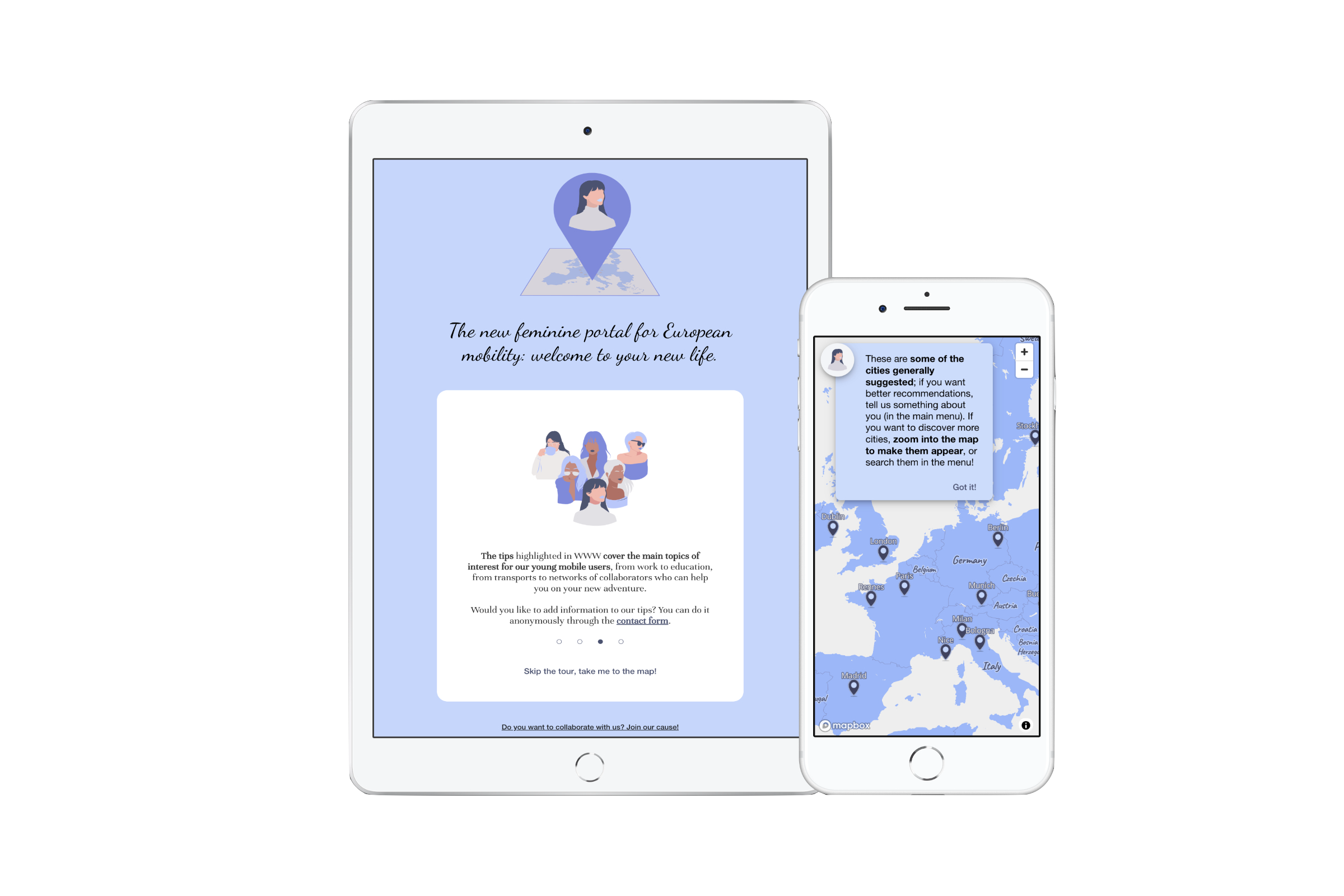 User interface of the Wonder Wanderlust Women application.
Congratulations! What is the project about?
Our solution POInt&Go creates a digital touchpoint between local public administrations and service providers operating in their cities in various strategic areas: culture and tourist destinations, mobility and the organisation of urban spaces. The service supports the objectives of involving tourists and citizens by profiling and monitoring the movement flows of tourist destinations and during crowded events. POInt&Go will offer interactive dashboards driven by AI capabilities and location technologies to improve data analysis on events, including attendees' perceptions and a better geolocated profile of the targeted users.
Image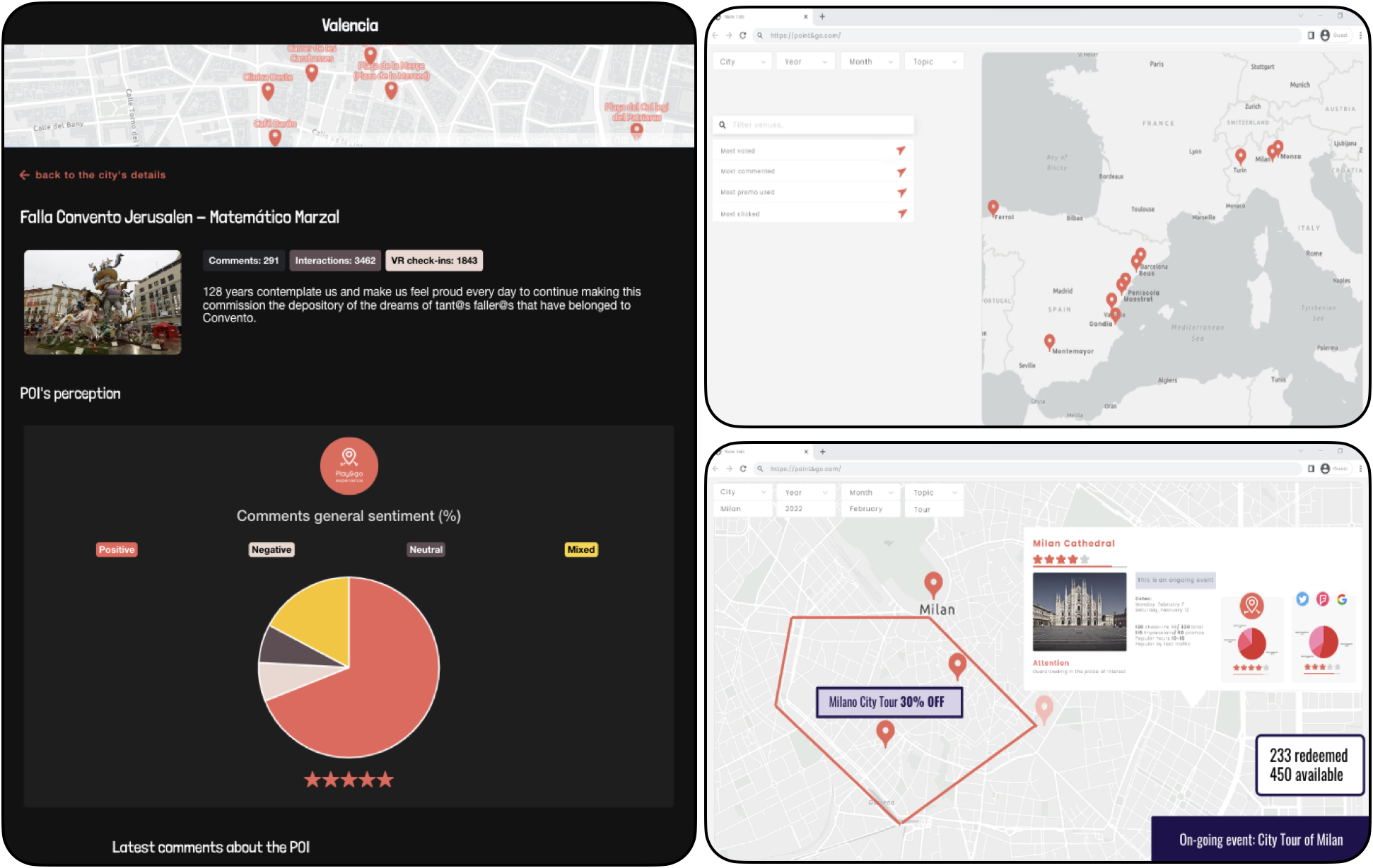 Prototype of the application POInt&Go.
Could you tell us more about your participation in the REACH incubator programme?
REACH is a second-generation big data incubator, aiming to accelerate data-driven innovation in Europe, towards the vision of the common European data space and developing the European data market. We proposed our solution in Play&Go Experience's challenge: 'Social and induced perception of the tourist territorial resources of a destination'. POInt&Go can measure this perception thanks to data obtained from augmented reality experiences designed to involve tourists and visitors in discovering attractions inclusively. Investigations have shown that the introduction of elements of gamification and augmented reality involves tourists more, favours the discovery of new destinations in the city and qualifies areas of interest for tourism and cultural purposes.
Image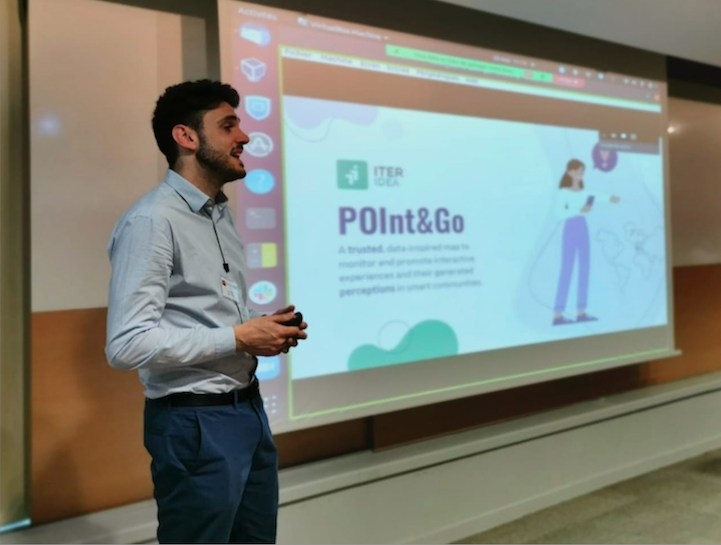 Guido Mazza, co-founder of ITER IDEA, presenting POInt&Go at CEA List in Paris.
What role does data sharing play in POInt&Go?
Each reality operates in the world of smart communities, working hard to profile users and improve services in local communities. POInt&Go can achieve these aims by relying on start-ups, partners and data from all over the world, bringing all this to local communities. The concept is to enable new models of collaboration between companies and public administrations through the safe and transparent sharing of data from multiple different industries which share common goals. In fact, we also decided to participate in the REACH Consortium as a data provider.
What is the biggest challenge for you in this project?
Technically speaking, the most ambitious challenge is to create a platform capable of ensuring the characteristics of a data value chain, enabling a secured, scalable and sustainable data exchange between multiple stakeholders and industries. The experience gained working as cloud engineers, also from the EU Datathon 2021, is certainly a competitive advantage. In addition, we can leverage the technology of some of the most innovative research centres in Europe. We are working hard to include the partners' needs into our vision without losing the original design and socially impactful value proposition. We think this is a crucial and challenging balance needed to grow our proposal and reach more providers.
Therefore, we are always looking to integrate more data, such as comments and ratings collected from the audience during events (city tours, exhibitions) or even statistics about the usage of shared mobility in cities. We invite any providers of such data (companies, municipalities) to get in touch with us. All the data providers joining at this stage will get the chance to be showcased as a use case at the REACH Pitch Day in Bilbao on 28 and 29 September and in several international events organised by the REACH Consortium.
If you are a company or a municipality and you would like to support ITER IDEA as data provider in the development of POInt&Go, send an email to info@iter-idea.com.