Towards 2023: the European Year of Skills
In October, the President of the European Commission Ursula Von Der Leyen announced her intention to make 2023 the 'European Year of Skills', including digital skills.
Why does Europe need to focus on digital skills? Which steps have been taken at EU level to realise the European Year of Skills? And how does data.europa.eu contribute to this mission?
The European skills gap
Currently more than three-quarters of companies in the EU report difficulties to find workers with the appropriate skill set. One-quarter of Small- and Medium-sized Enterprises (SMEs) consider the availability of skilled staff and experienced managers the most important problem. Moreover, 3% of all available jobs remain vacant, proving the mismatch between skills of workers and the market demand.
When it comes to digital skills, figures are also not promising. The 2021 Digital Economy and Society Index (DESI) shows that 44% of people in the EU and a third of Europe's workforce lack basic digital skills (Figure 1).
Image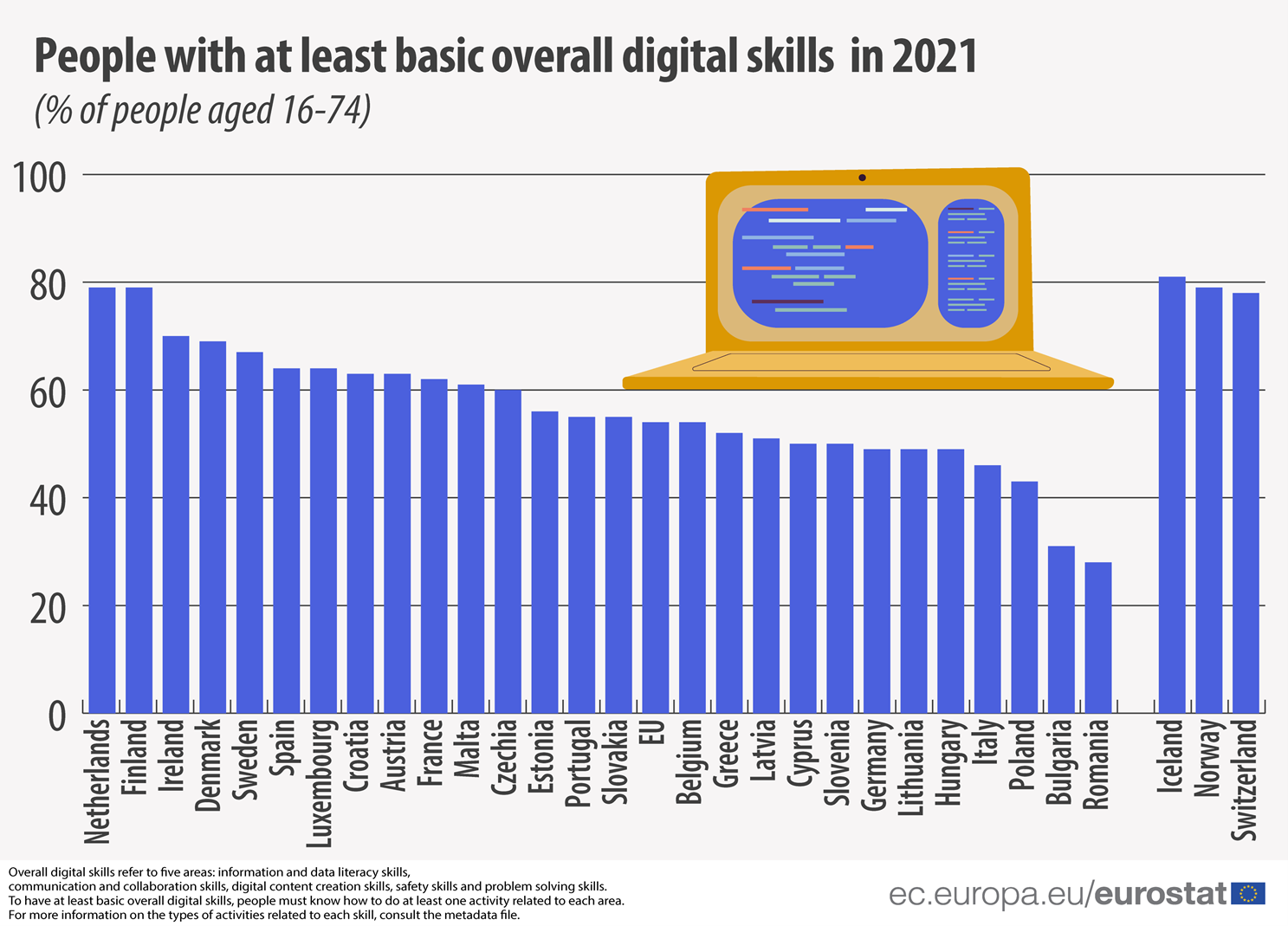 Figure 1 – EU citizens with at least basic digital skills per country (Eurostat, 2022)
Furthermore, the European Labour Agency reports a shortage of IT specialists and workers with a science, technology, engineering and mathematics (STEM) background. This is particularly true for the female workforce: only 1 in 6 IT specialists and 1 in 3 STEM graduates is a woman.
In today´s world, technology is at the core of society and business and data is an essential resource for economic and societal growth. To contribute to this growth and reap its benefits, citizens should be provided with adequate digital skills and understanding of data.
EU initiatives to support the development of digital skills
Improving education and skills is a key part of the overall vision for digital transformation in Europe. By 2030, the European Commission wants to reach 80% of EU adults with at least basic digital skills and 20 million ICT specialists – especially women – being employed across the EU.
In support of this ambition, action points 6 and 7 of the European Skills Agenda are dedicated to improve all skills relevant to green and digital transitions and to increase the number of graduates in IT.
NextGenerationEU, the temporary financial instrument for the EU´s recovery after the COVID-19 pandemic, and its key fund – the Recovery and Resilience Facility – are fundamental to realise this ambition. By making available €560 billion, they help EU Member States to finance skills-related reforms.
EU funding programmes such as the Digital Europe Programme (DEP) and the Connecting Europe Facility (CEF) also play a major role in supporting countries´ investments in digital up- and reskilling.
In particular, DEP offers €580 million to enhance cooperation between EU Member States and stakeholders through specialised education programmes in key digital technologies, such as Artificial Intelligence (AI) and robotics.
In the context of CEF, the European Digital Skills and Jobs Platform was launched to make information and resources on digital skills (e.g., the digital skills self-assessment tool) available to all.
Within the learning field, the Digital Education Action Plan is certainly another key step towards a European Year of Digital Skills. One of its priorities is in fact 'enhancing digital skills and competencies for the digital transformation' by setting up a European Digital Skills Certificate and a dedicated European Digital Education Hub.
Finally, encouraging digital skills trainings is also part of the mission of the  Digital Skills and Jobs Coalition. This gathers public administrations, companies, and non-profit organisations to raise awareness and address together the digital skill gap.
Data.europa academy for a (digitally) skilled Europe
By providing access to more than 1.5 million datasets from several public entities in Europe, data.europa.eu already plays a significant role in raising awareness among EU citizens about the impact of data on governments, society, economy, and environment. Beyond awareness, our portal offers a series of services that aim at improving data literacy, such as courses and training on the data.europa academy.
The data.europa academy is a knowledge hub, where open data communities can find relevant webinars and training courses to upgrade their digital and data skills. The open data lessons offered are currently structured along four themes of the open data maturity assessment: policy, impact, technology (portal), and data quality. These four themes cover topics ranging from the open data basics to new trends and challenges in the open data landscape.
At the end of 2022, the data.europa academy will introduce a new structure. The objective of this restructuring is to help users find materials that are in line with their interests or meet their needs. Thus, the lessons and materials will be spread along several courses instead of being organised along these four activities. These courses will be tailored towards specific groups, including:
Developers

– IT specialists interested in creating a business and using open data for their applications;

Academia

– researchers and students who want to measure the impact of open data and be informed about the latest trends across Europe;

Civil servants

– policy makers, including EU institutions and national and regional public bodies, that want to understand the value and (potential) impact of open data and how to visualise it.

P

rivate sector

– companies, SMEs and entrepreneurs that want to use data for their applications or business;

D

ata providers

– a group that is interested in the technological infrastructure to publish and share data and to improve the quality of open data and meta data;

Non-governmental and international organisations

– institutions that want to understand the value and (potential) impact of open data and be informed about the latest trends across Europe and how to visualise it.
Tags will be included to enable users to navigate through the learning offer.
Building the European Year of Digital Skills with open data
Beyond the academy, data.europa.eu has placed further efforts to make 2023 the European Year of Digital Skills. For example by:
Liaising and encouraging Member States to continue collecting data and statistics on data literacy and digital skills demand to be able to formulate targeted policies and re-skilling strategies;

Working with open data portals to make data available, easily accessible and understandable through national open data portals;

Broadening horizons with regional and local data portals, where the need for digital and upskilling could be greater;

Promoting data literacy and continuing to raise awareness about the topic by turning data into inspiring stories and gathering impactful use cases that could be reused and replicated;

Building collaborative environments for public data providers to facilitate the creation of not only a data-driven, but also a data-savy society. 
Interested in learning more about digital skills? Explore data.europa.eu related datasets and discover all our courses on the data.europa academy. Know of other courses or trainings to add to the Academy? contact us or reach out to us via our social media channels Twitter, Facebook and LinkedIn.