The value of energy data and its role in the market
In the past year, energy prices have been soaring and Europe has now entered an 'energy crisis'. The war in Ukraine is one of the reasons for this, but it is not the only factor that explains the current situation in Europe's energy market. Energy prices are sensitive to a range of economic, social, political and environmental factors.
What is behind the soaring energy prices of today? Can open data help us to find the answer? Can open data on energy help to understand the situation and create new policies?
The European energy market under pressure
Before showing examples of how organisations can use open energy data to support Europe through its 'energy crisis', it is first important to understand how the crisis came to be.
Prior to 2022 and the war in Ukraine, the energy supply was already declining for different reasons:
the COVID-19  pandemic in 2020 disrupted the global energy market. Supply chains were disrupted, planned maintenance work to be postponed and electricity demand fell. Moreover, during the COVID-19 pandemic, there were a series of unplanned outages at LNG liquefaction plants, upstream supply issues, and unforeseen repair works, which all had a negative influence on the energy supply.

energy storage sites across Europe have not been replenished to the levels seen in previous years .
In addition, EU has been relying on Russian crude-oil and natural gas imports. For example, in 2020, 29% of the extra-EU crude oil imports and 43% of EU's natural gas imports came from Russia.
On the other side, the demand for coal and natural gas has been increasing since the first half of 2021, following the rebound of the global economy. The International Energy Agency reported that the EU's coal consumption increased by 14% in 2021, compared to 2020. Moreover, coal consumption in the EU is expected to rise again by 7% in 2022 due to the switch from gas to coal for power generation.
Image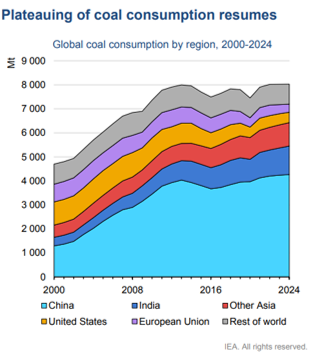 Figure 1: Coal consumption resumes
The decreasing supply and increasing demand for energy lead to rising energy prices. After Russia's invasion of Ukraine, the upward trend became even steeper.
European open data relating to energy
Data can support Europe to navigate through the energy crisis. Access to open, reliable and accurate energy data helps policymakers to take the right decisions to support countries to cope with the side effects of the current energy crisis. In addition, these data can inform the market on how to make the transition towards a more sustainable energy production and consumption.
A good source to find European open data relating to energy is data.europa.eu. At the time of writing, the official portal for the European data portal has 8 014 datasets categorised as 'Energy'. These datasets originate from EU and national public administration. Examples are:
Image
Figure 2: EU electricity price statistics, second half 2021
Image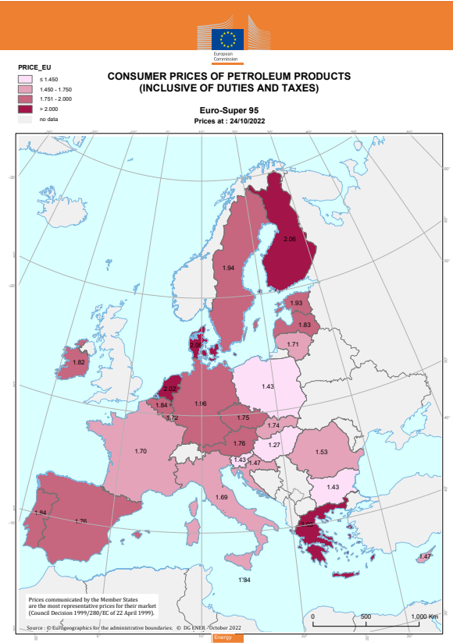 Figure 3: EU Consumer Prices of Petroleum Products on 24/10/2022
Image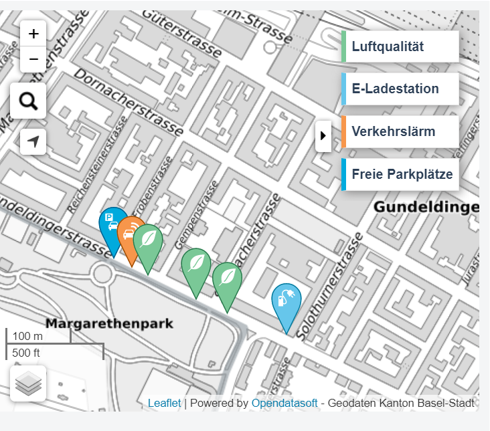 Figure 4: Locations of sensors and e-charging stations in Basel, Switzerland
Energy-related open data services
Several public institutions and private companies across Europe are already using (open) energy data to develop services for energy producers and consumers. Some examples are:
Outlook
Due to low energy supply and high demand, the EU is expected to face a turbulent winter. Data can help public organisations and private companies to develop services for citizens across Europe. These services could e.g. provide customers with information on their energy consumption patterns or give them advice on how to shift towards renewable energy sources.
In addition, data can support EU policy makers and civil servants in creating and implementing plans and strategies to address the energy crisis and provide support to citizens. This is exemplified in the President of the European Commission Von der Leyen's statement on 28 September 2022. This statement outlines the steps the EU will take to fight the high energy prices.