What can the Open Data Goldbook offer you?
To support organisations on their path to 'open by default', the Open Data Goldbook for Data Managers was created. This Goldbook, serving as a practical Open Data guide, is a summary of all you need to know to successfully implement an Open Data initiative within your organisation. You can expect this Goldbook to cover the basic organisational, technical and day-to-day challenges related to Open Data; from terminology to processes, from implementation to execution. The Goldbook includes 12 different sections.
In the section 'Open Data in a Nutshell', it sets out the definition of Open Data, why Open Data matters and what benefits can be expected. The Goldbook also describes how to build an Open Data strategy, by addressing the key ingredients for a successful Open Data initiative.
Image

Figure 1 How to build an Open Data strategy
Publishing any type of data is a process that consists of various sub-processes. In short, it involves collecting, preparing, publishing and maintaining data. These processes are clearly described in separate sections of the Goldbook. Applying these processes will result in a structured Open Data system within your organisation.
Image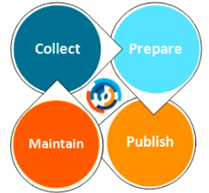 Figure 2 Open Data lifecycle
Introducing an Open Data initiative also requires some technical knowledge, with data that needs to be extracted, transformed and published. Data management is crucial, and this process is presented in the section on the Technical Preparation and Implementation.
Having processes in place for the collection, preparation, publication and maintenance of Open Data is not enough for a successful Open Data initiative. The success of your implementation also needs to be evaluated. To ensure and monitor the success of your Open Data initiative, it is important to engage re-users and to monitor various key aspects of your initiative. Your stakeholders will play a key role in underlining the benefits and concerns of your Open Data activities. A second step relates the monitoring of your Open Data initiative. To monitor the success of your Open Data initiative, consider implementing metrics to your publications in order to evaluate its success.
Curious to learn more about the various steps for implementing a successful Open Data initiative? Visit the different sections of the Goldbook and find out. The Open Data Goldbook has been drafted mainly for a public sector audience, because civil servants are often directly working on increasing the release of Open Data. Private sector organisations and NGOs however are welcome to explore the Goldbook and see how the concepts developed could equally be applied in publishing their data as Open Data.