Which region in Germany has the largest rainfall during summer? And which region during winter?
During the summer, the German Alps collect the most rain, while the Schwarzwald does during the winter
Summer is approaching, which means that temperatures are rising and people are going out to enjoy the sun. Unfortunately, there are periods of rain during the summer as well. Also during the winter time there can be a lot of rain. But what are exactly the differences? Do all regions across Germany witness the same weather conditions?
Germany has Open Data on the amount of rainfall over the whole country, both for the winter and the summer periods. During the summer, the amount of rainfall is higher in most regions, than during the winter. In general, we see a larger amount of percipitation in the mountain areas, regardless of the season. The South of Germany has the largest rain fall. During the summer the majority of the rain falls in the German Alps, while during the winter this occurs in the Schwarzwald region, a forest located in the South Western part of Germany.
Average rainfall summer
Image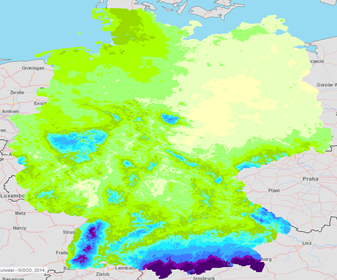 Average rainfall winter
Image