Linking data: Route Compatibility Check
In our 'Linking data' series, we are presenting EU projects that use linked open data (LOD). What data is linked in their projects? Why did they decide to use LOD? What benefits does it bring? Follow the series to find out.
In this episode, we are presenting Route Compatibility Check, an application developed by the European Railway Agency (ERA). Read on to find out what it is, and how and why it uses LOD. 
European railway ecosystem
The EU has one of the densest railway networks in the world. However, not all European countries have the same system of railway infrastructure and the same set of rail vehicle types (locomotive units, passenger cars, wagons, etc.) at their disposal.
Before placing a train or a composition of trains into operation it is necessary to check compatibility between the rail network and the vehicle(s). This action is called route compatibility check. To perform the check, two types of data are necessary. Data related to the railway infrastructure, typically provided by infrastructure managers, and data about the rail vehicle types, typically provided by railway operator companies. When studying and planning cross-border routes in Europe, it is necessary to bring all this data together from the multiple European actors involved. 
Until recently, there was no tool to enable and automate this activity at the European level. The data was locked in two separate databases maintained by the European Railway Agency: the European Register of Infrastructure (RINF) and the European Register of Authorised Type Vehicles (ERATV). Both give access to the data of national registers, but it is not easy to export and compare the data. To solve this, ERA developed the Route Compatibility Check (RCC) application, based on the ERA knowledge graph. 
Image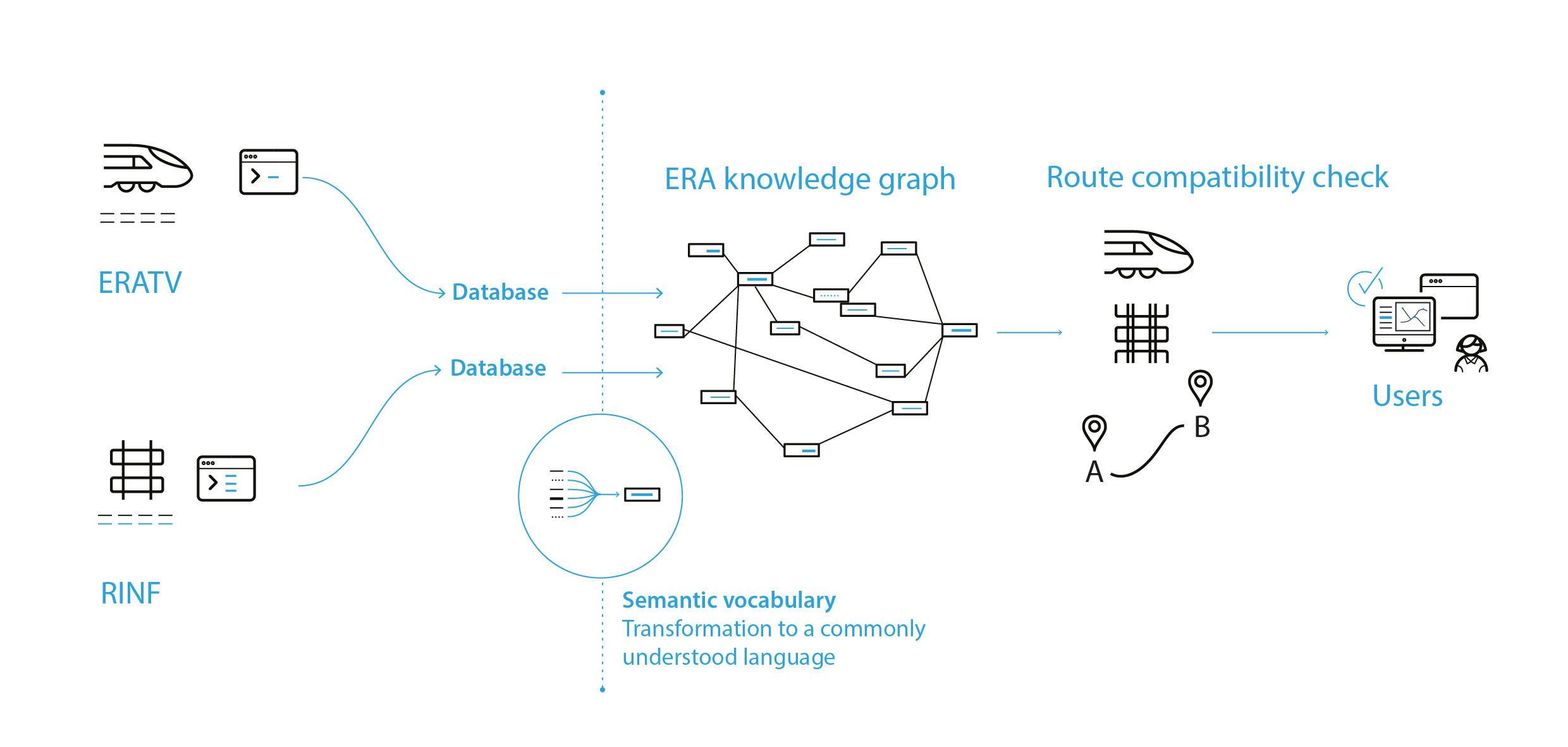 ERA knowledge graph 
A knowledge graph, sometimes also called a semantic network, represents a network of real-world or abstract entities (objects, events, concepts) and illustrates the relationship between them. Data in knowledge graphs is connected and structured using a semantic model (a vocabulary) which defines the types of entities and relationships that can exist in the knowledge graph and the properties that can exist for each type of entity and relationship. 
Currently, the ERA vocabulary covers data related to the European railway infrastructure and the vehicles authorised to use it. In the vocabulary, every data concept gets a universal resource identifier. This makes it possible to uniquely identify and define each concept, even if one concept has, across the databases, multiple names (labels) and/or exists in many formats. 
The ERA knowledge graph covers 27 European countries and describes over 2 000 vehicle types, 270 000 track segments and 50 000 train stations ('operational points'). 
Route Compatibility Check 
The RCC application uses data from the ERA knowledge graph and displays it on a simple user interface. The app allows us to answer the following questions. 
Is this railway vehicle compatible with this route? (i.e., you can check if a vehicle can go from point A to B). 
What are the requirements for a vehicle to go on this route? (i.e., you can check the technical characteristics of a piece of railway network, which can be useful in designing a new vehicle type, for example). 

Which route passing by point X can be taken by this railway vehicle? (i.e., you can look for alternative routes for a given vehicle). 
Image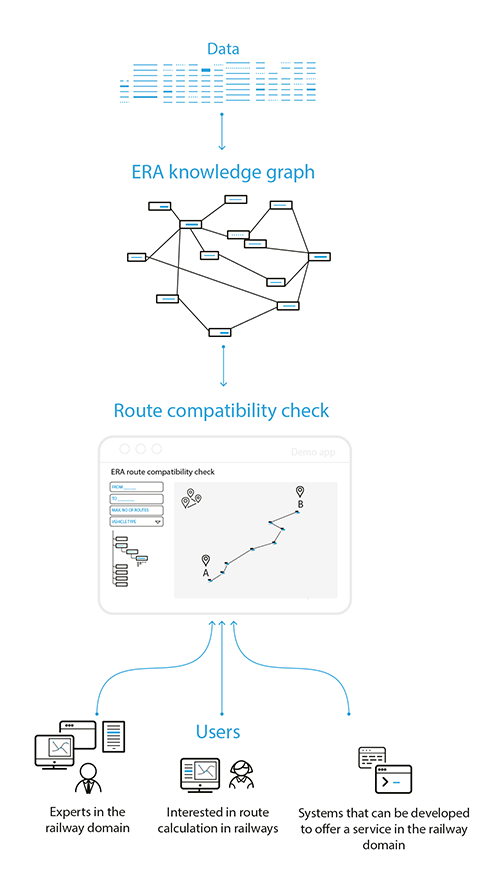 The application is primarily designed for experts in the railway domain (especially rail transport providers) who lack a supporting tool to easily acquire the information necessary to perform route compatibility checks. However, RCC is openly accessible, so everyone can use it. 
The benefits of linked open data in RCC
Thanks to LOD, data in RCC is harmonised and synchronised with the content of the two master databases, RINF and ERATV. The tool is easy to use and allows to save time and reduce effort. What used to require lengthy manual checks and calculations in the past, now is provided very quickly by RCC. 
Image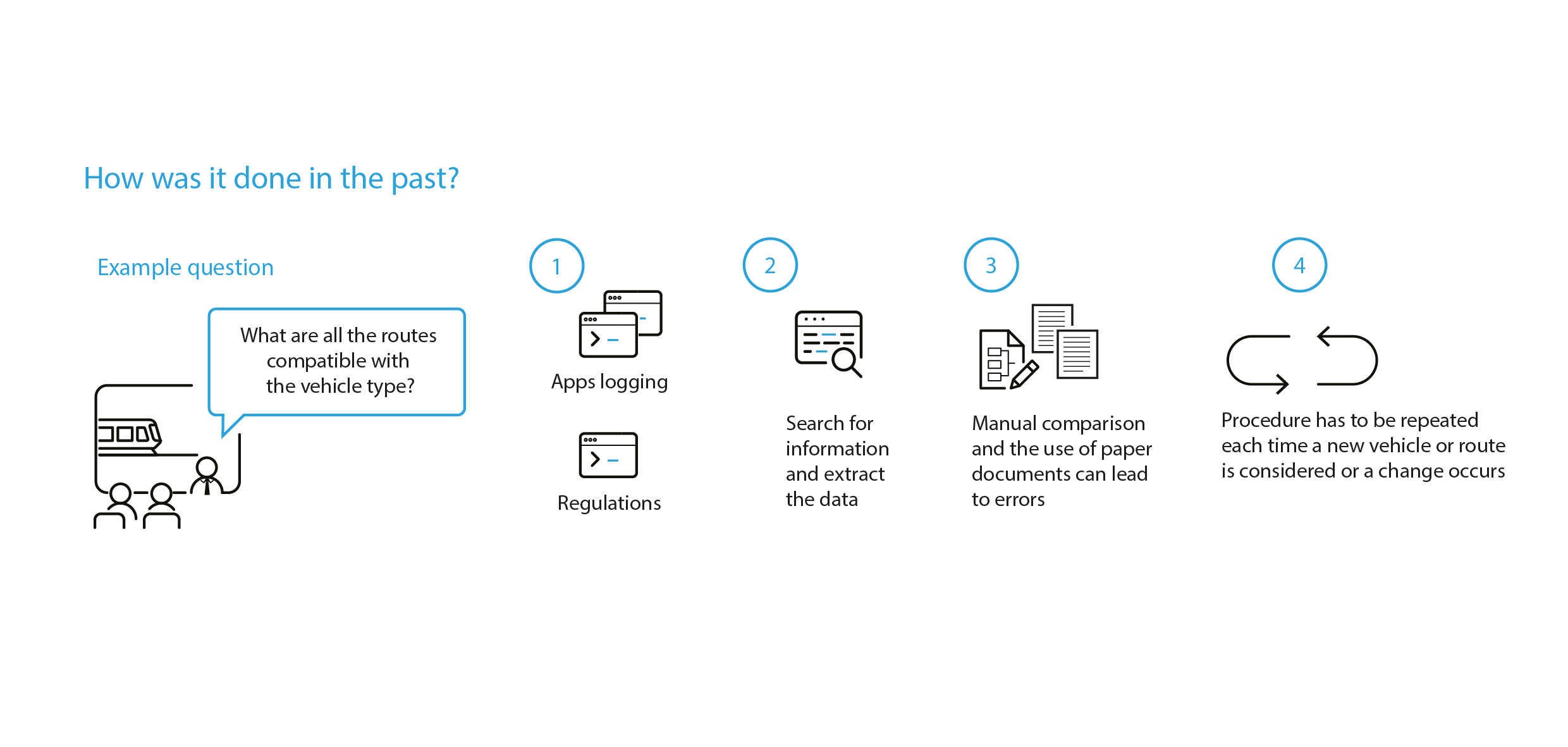 Image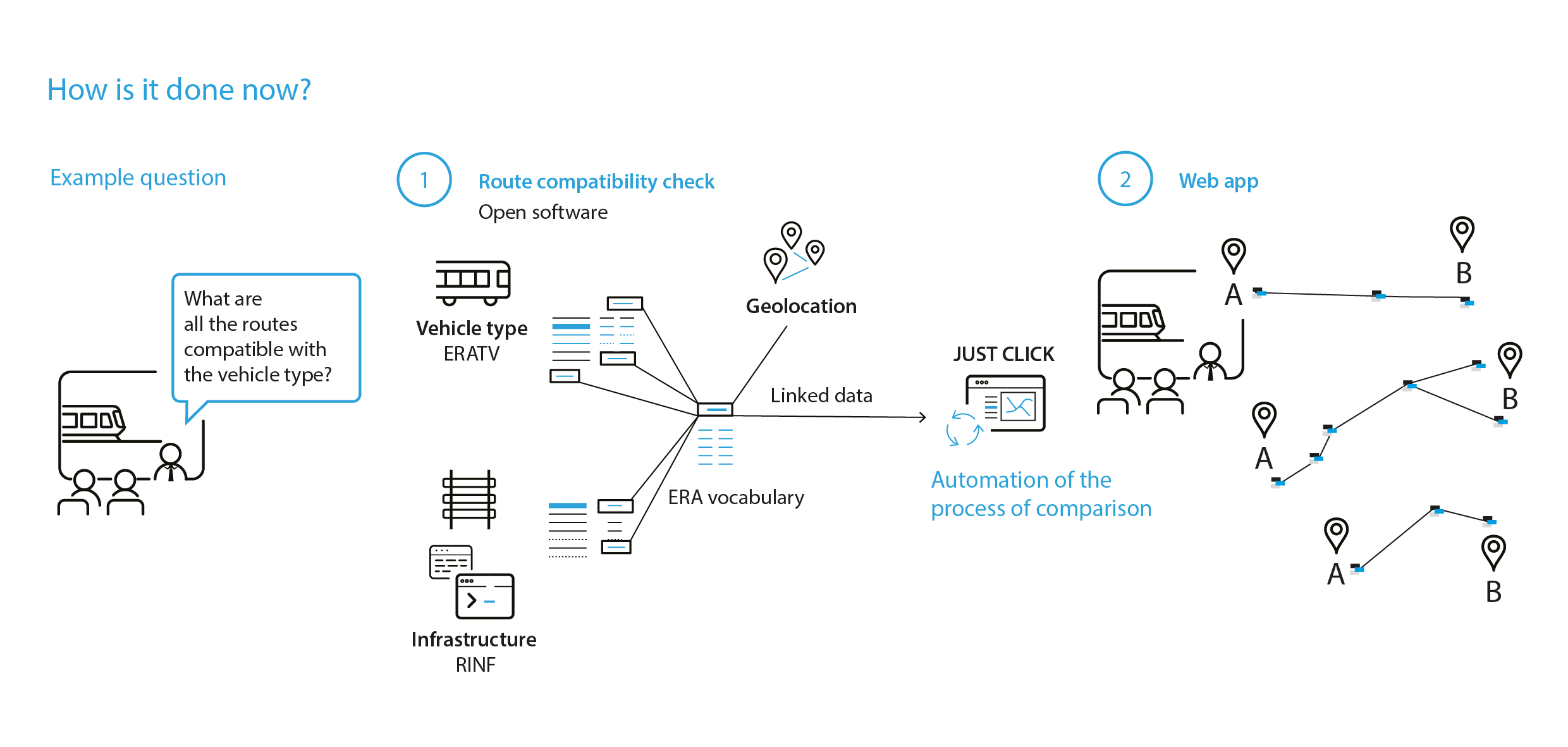 Additionally, transforming the data from traditional databases to the ERA knowledge graph makes them conform with the FAIR principles, which aim to make data more findable, accessible, interoperable and reusable. What's also important is that this transformation has had zero impact on the data providers. 
The benefits of linked open data in the railway data landscape in general
RCC is only one of possible use cases of the ERA knowledge graph. A one-off effort to map concepts and data in a knowledge graph will help us answer other questions and solve other issues where a single database would not be sufficient to do so. Even if new queries would require certain additional data concepts which are not yet in the knowledge graph, adding new data sources and concepts to an existing knowledge graph is easy. 
Image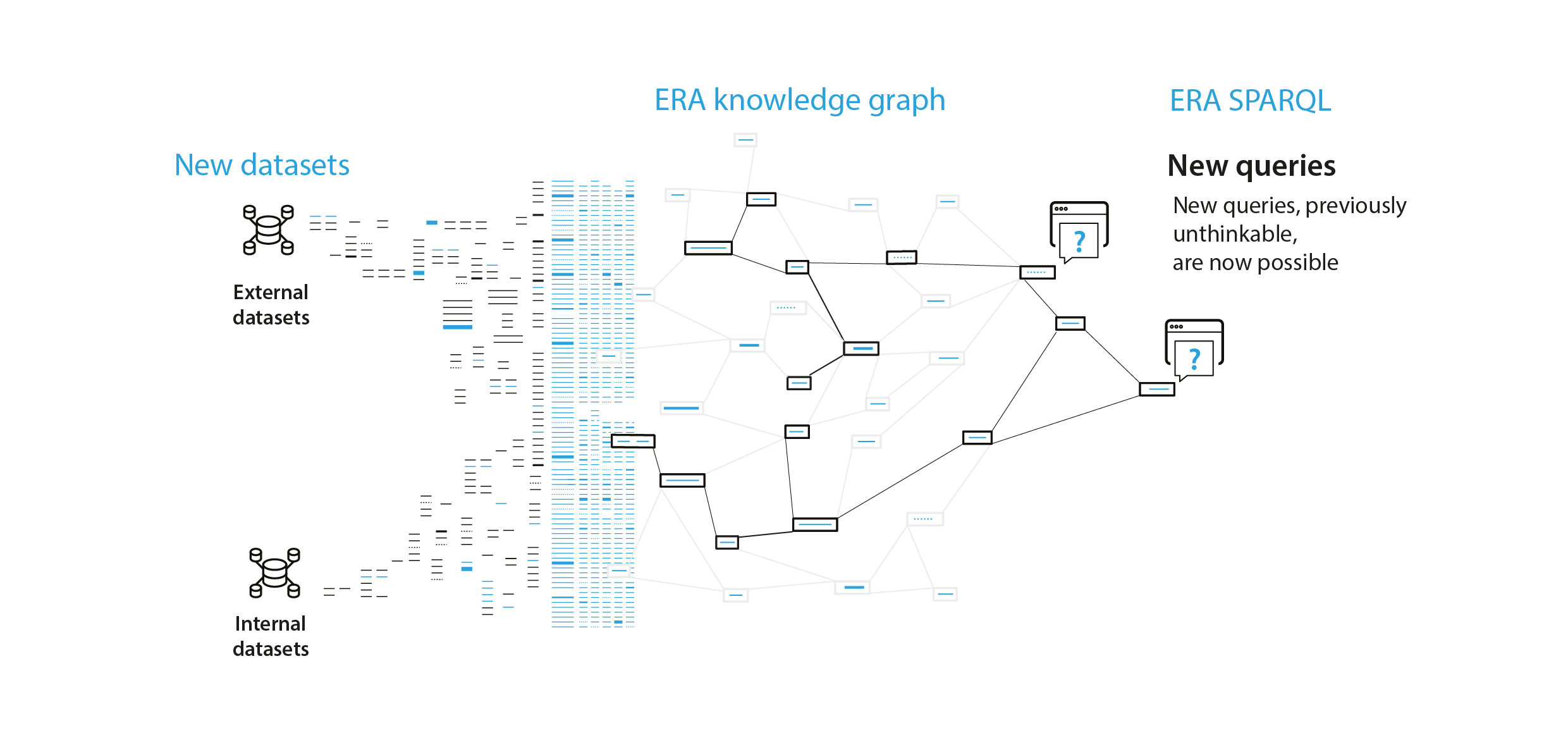 Thanks to LOD, in the future the current RCC tool structure could be reused to answer new questions and solve other issues with minimal modifications in the application code. The flexibility provided by this solution perfectly fits the reality of railway domain, where new use cases and needs for hosting new parameters in different databases appear on a regular basis. 
Useful links 
ERA catalogue of SPARQL queries 
Webinar: 'European data on rails, the linked data project' 
Presentation: 'A railway knowledge graph in the EU mobility data space' 
Graphics used in this article (available for reuse under CC-BY-4.0)