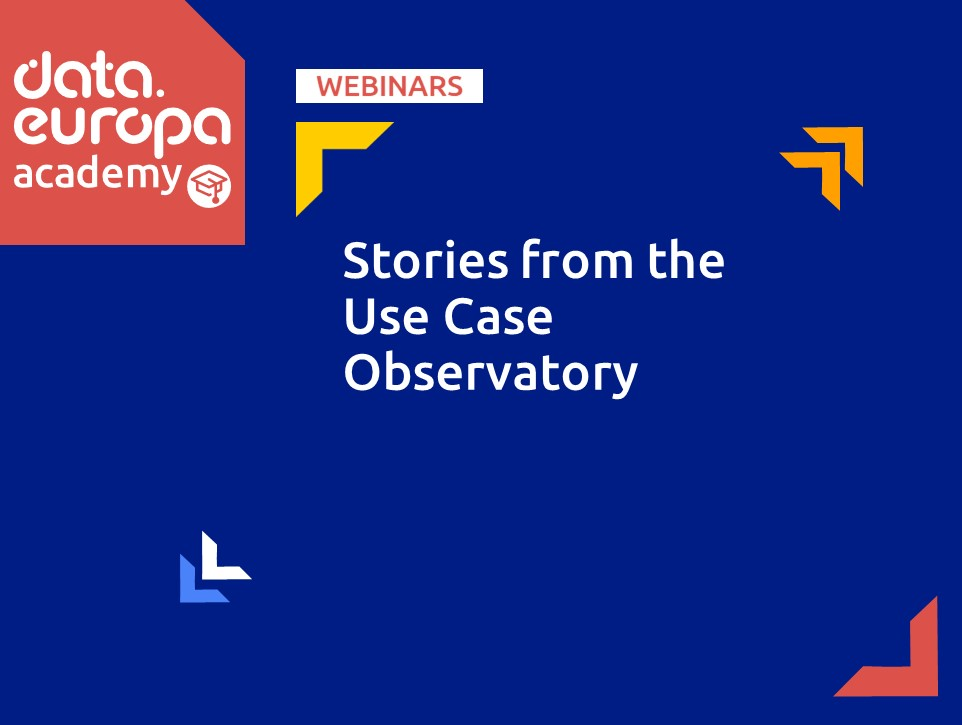 The Use Case Observatory is a research project by data.europa.eu. It contributes to the portal´s broader goal to measure the economic, governmental, social, and environmental impact of open data by monitoring 30 cases of open data reuse over four years: from 2022 until 2025. This webinar series aims at presenting the Use Case Observatory research project and the insights of its three analytical reports on the reuse cases analysed. 
The first analytical report will be published in September 2022 and will introduce the 30 re-use cases in terms of the services they offer, the (open) data they use, and the impact they have at the moment of writing. The second and third reports will expand on the findings reported in this first volume and highlight changes in the development and impact of the same 30 re-use cases here reported.
Webinar
data.europa academy webinar: ´Stories from the Use Case Observatory – Volume I`
In line with the goal of the Use Case Observatory, this first webinar will be structured in two parts. In the first part, the (technical) facilitator will provide an overview of the project, its methodology, and the insights of the 2022 publication. During the second part of the webinar, four reuse cases will be given the floor to present their open-data-driven solutions and their impact. After the four presentations, the audience will have the opportunity to ask questions and further discuss directly with the report's authors and the reuse cases' teams. 
Topics to be covered: 
What is the ´Use Case Observatory` about?  

What insights are collected in the first Use Case Observatory report just published?  

How is open data being reused across Europe? 
What is the (potential) impact of this reuse? 

How can open data reuse be monitored and its impact measured? 
Speakers 
Guglielmo Celata, Openpolis 

Clara Bracklo, Integreat 

Jelle Kamsma,  LocalFocus 

Stéphane Gigandet, OpenFoodFacts
Please register through the registration form.